This post is to explore the reasons why the world loves the Toothless Plush so much and how you can go about buying or even making your very own Toothless Plush dragon.
Meet Toothless
Toothless is a night fury dragon from the films "How to train your dragon" who befriends the main character of the film "Hiccup".  Toothless is brave, powerful and loyal but those qualities are probably not why the Toothless plush is one of the worlds most popular soft toys.  The reason is most likely his level of cutness – It's off the charts. In fact they should reprint the Oxford English dictionary and place a picture of toothless next to the word "Adorable".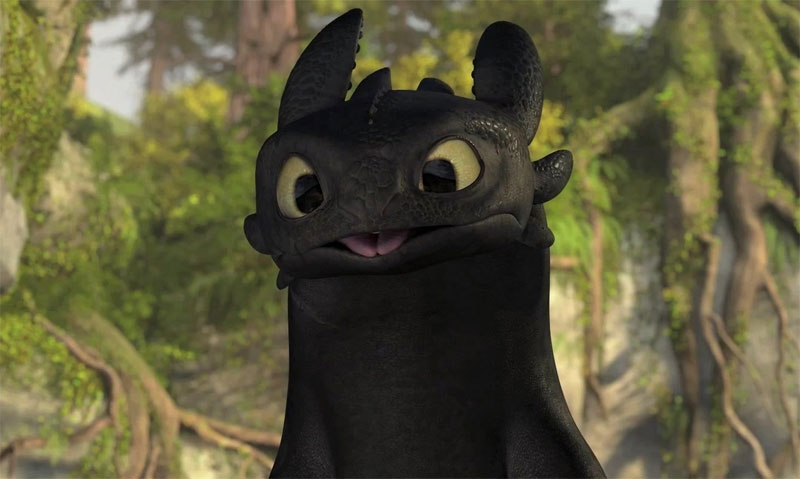 You wouldn't usually think of a jet black dragon capable of blasting super heated fire balls out of it's mouth as adorable. However, the combination of his giant puppy dog eyes and his gummy smile has rewritten the rule on dragons being scary. Pete's dragon had a crack at damaging their street cred back in the 70's but Toothless has definitely melted our hearts when it comes to dragons.
Buying a Toothless Plush
When it comes to buying a Toothless Plush you will probably find most of them have somewhat morphed Toothless into a baby version and ramped up his cuteness factor even further, it that's even possible.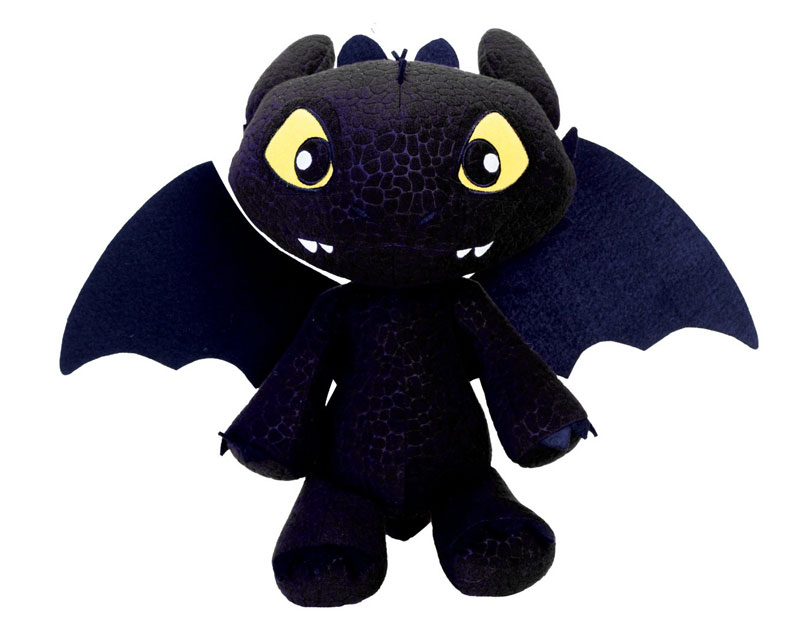 The Toothless Plush above is a perfect example of a baby-fied Toothless dragon.  There is no doubt he is an adorable plushie, and probably the prefect choice for children, this particular one has a squeeze function to hear him growl or purr and is available here
Personally I much prefer a more authentic looking Toothless Plush like the one pictured below.  I admit he may not be quite as cute as the baby toothless plushie, but he does have wings that can be posed. He is available here, and is currently the most popular choice.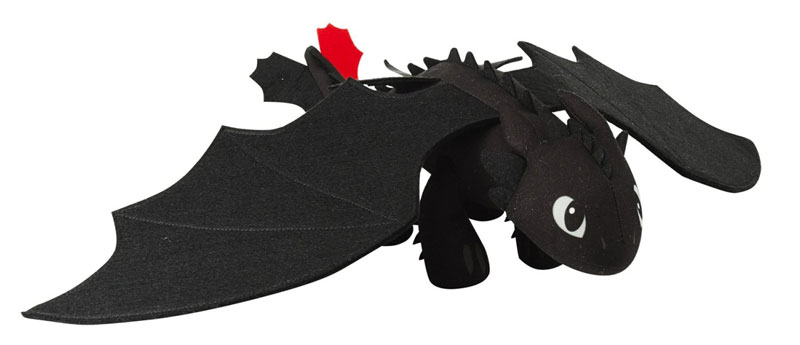 Both these Toothless Plush toys are official Dreamworks soft toys,which means they are typically a little more pricier than some of the shop bought alternatives.  If you are looking for cheaper options, take a look at the Toothless plush toys onor see the Amazon listings here.
Handmade Toothless Plush Toys
Handmade Toothless Plush toys are possibly even more popular than the shop bought options. I think this has a lot to do with them being made by actual fans of of Toothless. Some of these handmade plushies really do capture his spirit and are arguable even better quality than the official Toothless plush toys.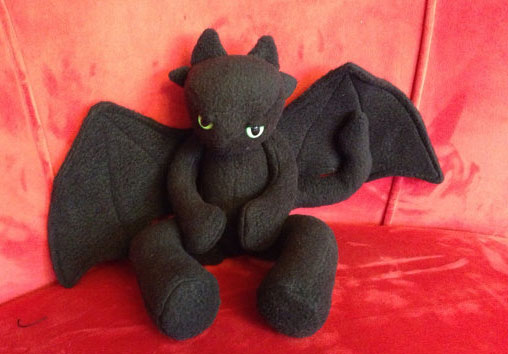 The handmade Toothless plush above has a wing span of 16″ and is fully jointed. Made from super soft minky or black fleece and is available on Etsy here.
You can see all the other amazing handmade toothless plush dragons on Etsy by following this link.
Making your own Toothless Plush
If you have the skills with a needle and would like to attempt to make your very own Toothless Plush, there are plenty of amazing sewing pattens available to buy on Etsy.  Alternatively you could grab a free toothless pattern on Deviant Art here or use the one below.
Free Toothless Pattern (made by Katy-A)
The free Toothless Plush tutorial for the sewing patterns above is here (see the pictures at bottom of the tutorial to see how the finished Toothless will look).
---
If you enjoyed this post please use the social buttons to share it with your friends, or leave a comment below.  Thanks